Coronavirus Update: Closings and Cancellations
Rabbi Ammiel Hirsch
March 12, 2020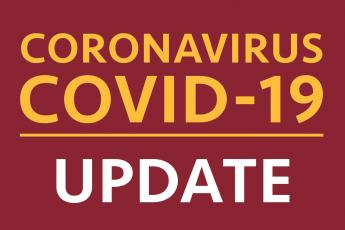 Dear Congregants,

Since the coronavirus outbreak, we have been guided in our decisions by two central principles:

First: the importance of the institution of the synagogue to the wellbeing of individuals and the community. At all times, but especially during crises, religious institutions play a vital role in anchoring society and offering a safe haven from fears and anxiety.

Second: we have a central responsibility to take all reasonable measures to ensure the physical health and safety of the thousands of members of our synagogue — as well our friends and neighbors in New York City.

While we are not aware of any Stephen Wise members who have contracted the COVID-19 virus, we believe that the health and wellbeing not only of our thousands of congregants, but also of the entire community at large, compel us to take aggressive preventive measures to help contain the spread of the virus.

Accordingly, we have decided upon the measures below. Please consult our website and future communications for any additional updates.
SCHOOL CLOSINGS
Effective tomorrow afternoon, Friday, March 13, the Early Childhood Center, the Religious School and Lomdim Chofshi will close through Saturday, March 28. During this time, we will monitor events carefully, and, if necessary, extend the duration of the schools' closure. Our schools have spent several weeks preparing for this eventuality. Miriam Kalmar, Rabbi Rifkin and Sarit Ron will communicate their plans for continuing education directly with the school communities. We encourage you to be in phone and email contact with them so they may answer your questions. We want to hear from you.
WORSHIP
Unless we communicate otherwise, we will have Shabbat services this weekend and next in our building on both Friday evenings and Saturday mornings.

Tomorrow evening's Family Shabbat: Grades 3–5 is canceled, as is the Schwartz Goldstein Lecture scheduled for this Saturday.

You do not have to attend services to stay connected to worship at Stephen Wise! As always, we will be streaming live, and we are making plans to continue live streaming our services in the event that we have to close the building entirely. If you need help streaming services, contact our director of communications, Ryan Greiss.

If you do come to Shabbat services, please try to maintain the safe distance from fellow congregants recommended by medical professionals: at least six feet. If you are not feeling well, avoid the synagogue. If you have a compromised immune system or are elderly, we urge you to carefully consider the risks of attending services.

For all those seeking rabbinic dispensation not to attend services, all of the rabbis grant it to you! That said, Jewish tradition requires us — and you — to still observe Shabbat. Gather your family together and light Shabbat candles. Recite the Kiddush. Parents, bestow the traditional Shabbat blessings on your children. If you want instruction, advice or material from us on how to observe Shabbat at home, we would love to speak with you. Contact Rabbi Natov and she will walk you through Shabbat rituals.

Check on your fellow congregants! For those of you living alone, let us know who you are. If you would like to participate on our synagogue-wide Caring Community Committee or if you have training as a therapist and would like to volunteer to help members during the coming weeks, please contact Rabbi Natov.

The weekly Shabbat morning lay-led Torah study can continue to convene; however, we urge participants to maintain a safe distance from one another.
B'NAI MITZVAH AND TUTORING
As of now, we expect to continue b'nai mitzvah services at Stephen Wise, although we are aware that attendance might be reduced in many cases. For all the families scheduled for b'nai mitzvah through June, please stay in touch with Rabbi Hirsch, Cantor Singer and Rabbi Rifkin. We will update you regularly with any new development, as well as offer you advice and counsel.

For all of the students who are in the earlier phases of their b'nai mitzvah studies and are currently meeting with a tutor, these classes will be conducted off-site through remote meeting technology or by phone. Contact our bar/bat mitzvah coordinator, Whitney Diamond.

All of the students who have reached the later phase of meetings with Cantor Singer and Rabbi Hirsch, please stay in touch with Rabbi Hirsch's assistant, Priti Saldanha. It is possible that these meetings might happen on-site if the families and clergy prefer.
COMMUNITY PASSOVER SEDERS
Both the Women's Seder scheduled for March 30 and the Community Passover Seder scheduled for April 9 are canceled. Rabbi Natov is eager to speak with all of our members who planned on attending our communal Seders to offer assistance, support and friendship for those in need.
NEXT STEP MEN'S SHELTER AND
EMERGENCY FOOD PROGRAM
Stephen Wise's Next Step Men's Shelter will close from March 14 through March 29. During these days we will work with the shelter volunteer leadership to assess whether we need to extend this period. Please be in touch with for any questions.

The Shabbat morning Emergency Food Pantry will distribute meals this weekend, March 14. To volunteer, please email .
Judaism is soberly realistic and endlessly optimistic. We are commanded to engage the world as it is, and to dream of, and work towards, a world that can be. As inconvenient as the coming weeks may be, these days, too, shall pass. We urge you to take active measures to safeguard your health. Practically all of the traditional Jewish commands can be suspended when health and life are at stake.

In the weeks ahead, we will continue to develop and refine ever better ways to continue our care and concern for each other. Stay connected. Let us know how we can help you. We will write to you frequently.

Remember, we are measured not by how we do when life is easy, but how we contend with adversity. In such times, we may discover strengths we never knew we had, a reservoir of compassion we never knew was so deep, and an appreciation of life we never considered before.
Wishing you many blessings,
Ammiel Hirsch, Senior Rabbi
Marc Bernstein, President
Please refer to our online calendar for the most up-to-date information regarding events.
KEY CONTACTS
Clergy Office
Rabbi Ammiel Hirsch | (212) 877-4050, ext. 226
Cantor Daniel Singer | (212) 877-4050, ext. 237
Rabbi Samantha Natov | (212) 877-4050, ext. 244
Rabbi Shira Gluck | (212) 877-4050, ext. 246
Priti Saldanha | Rabbi's Assistant | (212) 877-4050, ext. 226

Schools
Miriam Kalmar | ECC Director | (212) 877-4050, ext. 265
Rabbi Rena Rifkin | Youth Education Director | (212) 877-4050, ext. 236
Sarit Ron | Chofshi B'Manhattan Director | (212) 877-4050, ext. 254
Whitney Diamond | BBM Coordinator

Administration
Sandy Divack Moss | Executive Director | (212) 877-4050, ext. 228
Ryan Greiss | Communications Director | (212) 877-4050, ext. 267

Next Step Men's Shelter

Emergency Food Program