Fight Gun Violence With Us
March 9, 2018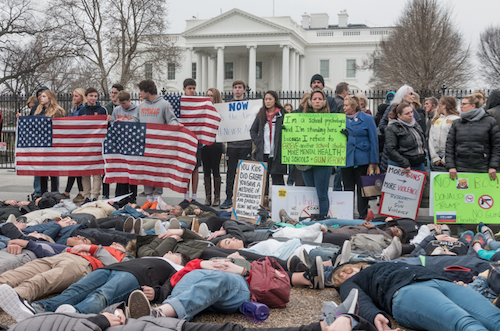 Standing in solidarity with teens across the country who are driving an unprecedented movement to fight gun violence in the United States, we have created a fund that will be used to support Sandy Hook Promise, a national nonprofit that provides programs and practices that protect children from gun violence; and Congregation Kol Tikvah, a Reform Jewish congregation in Parkland, Florida, which lost a number of students in the recent school shooting and is actively supporting its local community through counseling, supplies, and programs.
All donations received through our Fighting Gun Violence Fund will go to these two organizations.
This fund will close on Friday, March 30.
DONATE TO FIGHTING GUN VIOLENCE FUND
We also invite you to join us for three upcoming events:
Action Night: Gun Safety
Monday, March 19, 7:00 p.m.
Join the Domestic Civil Liberties Task Force as we discuss current events and create posters in preparation for the March for Our Lives.
RSVP HERE
March for Our Lives
Saturday, March 24, 9:45 a.m.
People from across the country are calling on congress to take immediate action to combat gun violence. New York City's March for Our Lives will take place Saturday, March 24, at 9:45 a.m., route TBD. Our Domestic Civil Liberties and Anti-Semitism Task Forces and Social Action Committee will lead a Stephen Wise contingency to this march. More details coming soon. Please RSVP to Tamar Yanay at or 212-877-4050, ext. 263.
Guns in America: Five Years After Sandy Hook
Monday, April 9, 6:30 p.m.
Join our Domestic Civil Liberties Task Force as we mark five years since the tragic Sandy Hook shooting. Hear from key advocates fighting gun violence in the United States through legislation and education, including Sandy Hook Promise founder Mark Barden, Lt. Governor Kathy Hochol, and shooting survivor Abbey Clements.
RSVP HERE