No Hate. No Fear.
Caroline Hirsh
January 6, 2020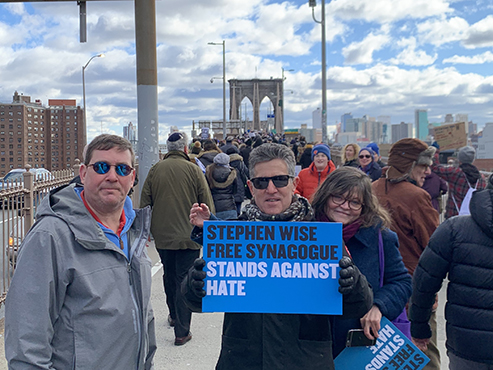 On Sunday, nearly a hundred Stephen Wise Free Synagogue congregants and friends led by Rabbis Ammiel Hirsch and Samantha Natov proudly joined more than 25,000 New Yorkers for a march and rally against anti-Semitism. Organized by a host of Jewish organization, the march into Brooklyn was a response to the recent spate of violent attacks on Jews.
"We are Jewish, we couldn't be prouder — and if you can't hear us, we'll yell a little louder," the crowd cheered.
Also marching were Gov. Andrew Cuomo, Mayor Bill DeBlasio, and Sens. Chuck Schumer and Kristen Gillibrand. At the rally, Jewish reggae singer Matisyahu performed "One Day" and "Jerusalem," as the crowd sang along.