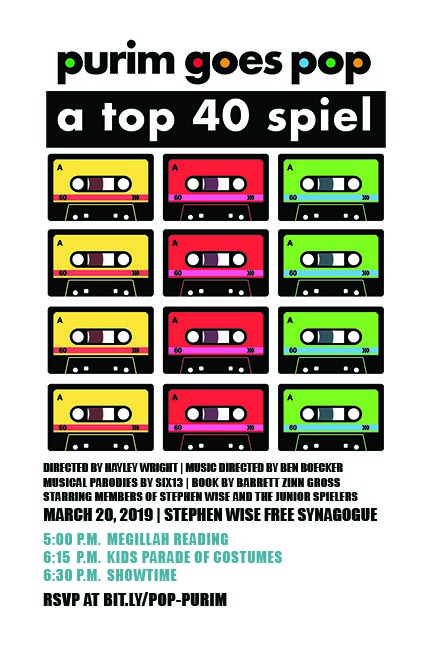 This year's pop-musical play: "Purim Goes Pop: A Top 40 Spiel"

Wednesday, March 20, 2019, at Stephen Wise Free Synagogue
Directed by Hayley Wright | Music directed by Ben Boecker
Musical parodies by Jewish acapella sensation Six13 | Book by Barrett Zinn Gross
Starring Stephen Wise Members and the Junior Spielers
RSVP now by clicking here!
Or check out our other Purim programming here.
A 30+ Year Tradition of Megillah Musicals
For more than 30 years, the annual purim spiel has been one of Stephen Wise Free Synagogue's most popular traditions. It features congregants of all ages and levels of talent.
Maybe you have questions, or want to help out behind the scenes? Email or call Rabbi Samantha Natov at 212-877-4050, ext. 244.
Over 30 Years of Stephen Wise Free Synagogue Megillah Musicals:
1988 The Megillah According to Broadway
1989 The Megillah According to Hollywood
1990 The Megillah According to Television
1991 The Megillah Returns to Broadway
1992 The Megillah According to Rodgers & Hammerstein
1993 The Megillah According to Irving Berlin
1994 The Megillah According to Hollywood
1995 The Big, Bad, Broadway Megillah
1996 The Megillah According to Frank Sinatra
1997 The Megillah According to Walt Disney
1998 The Megillah According to Rock 'n Roll
1999 The Megillah According to The Beatles
2000 Megillah Memories
2001 The Motown Megillah
2002 The Megillah According to The Beach Boys
2003 The Megillah Goes to Woodstock
2004 Chicago – The Megillah
2005 The Megillah Goes to Nashville
2006 Purim Night Fever – The Disco Megillah
2007 The Megillah Has Soul
2008 Grease - The Megillah
2009 MEGILLAH MIA! – The ABBA SHPIEL
2010 Les Miz – Les Megillah
2011 Michael Jackson's The Thriller Megiller
2012 A Very GLEE Megillah
2013 Oh What A Shpiel! The Jersey Boys Megillah
2014 The Book of Norman – A Broadway Megillah
2015 All Shook Up – The Elvis Megillah
2016 The Megillah According to Andrew Lloyd Webber
2017 Billy Joel – The Megillah Man
2018 Don't Stop The Spielin': A Rock Megillah
2019 Purim Goes Pop: A Top 40 Spiel
For 29 years, the spiel was written and directed by congregant Norman Roth (see him profiled in The New York Times here).