Please join us for a spectacular evening at our annual Spring Benefit!
SUNDAY, JUNE 2, 2019
THE LIGHTHOUSE AT CHELSEA PIERS (PIER 61)
6:00 P.M. COCKTAIL RECEPTION
7:00 P.M. DINNER AND AWARD PROGRAM
RSVP or donate by filling out the form below or clicking here.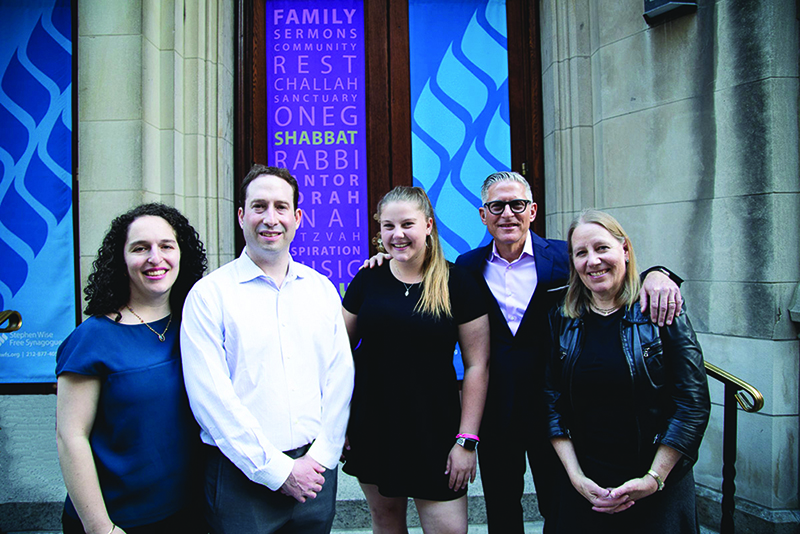 In Jewish tradition a shem tov, a good name, stands above all. Stephen Wise Free Synagogue is honored to bestow the Shem Tov Award on these extraordinary congregants for their boundless humanity. Each honoree generously gives their time, wisdom, and financial support. Their involvement in community service, education, and philanthropy enriches our synagogue and their impact extends far and wide.
ABOUT THE HONOREES
The Leener family played a critical role in Stephen Wise Free Synagogue's revival and has been involved in virtually every aspect of the synagogue for the past 20 years. Lance, a middle school teacher, has served as vice president of our synagogue and as a board member for a decade. Jamie, a managing director at Credit Suisse, has held leadership positions at our ECC and Religious School. Since 2014 they have together managed our Next Step Men's Shelter. Jesse, an ECC and Religious School alumna, has blown the shofar for our community during the High Holy Days since she was a child. She was awarded the synagogue's Seifer Memorial Scholarship just last year and now is a freshman at Kenyon College, where she has been selected to manage the college's Hillel.
Dana Sirota, a pediatrician and assistant professor at Columbia University Medical Center, and Josh Schiffrin, a partner at Goldman Sachs, joined us in 2012. Active supporters of organizations that benefit disadvantaged children, they also regularly volunteer at our men's shelter, and — as parents of two ECC graduates and one incoming student — they encourage the ECC community to participate in our Emergency Food Program, shelter, and other service activities. Both have sat on synagogue committees and are very involved in Tot and Family Experiences for Shabbat and holiday programs.
In short, these families exemplify what it means to be active and involved members of the Stephen Wise Free Synagogue family.
RSVP OR DONATE
DIRECTIONS
Arriving by car/taxi:
The Lighthouse is located within the Chelsea Piers complex. From the West Side Highway, exit between 22nd and 23rd Streets and proceed through the parking gate directly to The Lighthouse located at the tip of Pier 61.
CONTACT
For any questions or comments, please contact Mira Keren by phone at (212) 877-4050, ext. 228, or by email at .